mctimoney treatment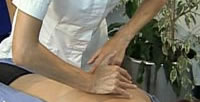 The McTimoney method is a uniquely gentle method of adjusting the bones of the body in order to relieve pain and restore movement. The aim is to maintain the correct alignment of your spine, thus ensuring that your body's nerve supply works efficiently.
The McTimoney technique is suitable for just about everybody, including the very young and the elderly. We find that a wide range of conditions can benefit from treatment, including pain, discomfort and stiffness in the joints and bones,migraine and tension headaches, muscular aches and pains, sciatica, whiplash and sports injuries.
workplace massage

Workplace massage is a health and relaxation session specifically developed for people in their work place. The sequence works to improve the flow of energy throughout the body and acts on the muscular, nervous and circulatory systems.
On-Site Massage (OSM) feels good, easing out the tension and stress that builds up in the workplace leaving the client calm, energised and alert. Historically, it has roots in japanese Anma massage dating back over 2000 years.